Sustainable Sand Free Beach Towels
Designed On The Gold Coast
We work with a sand free technology that doesn't let sand stick to the towel fabric, it will simply slip off when you shake it. Wet or dry, it works the same way!
No more sand in your bag, car or home.
Standard Beach Towel Size 160x80cm
Big beach towel size 160cmx80cm and yet small enough to roll into the included compact carry bag.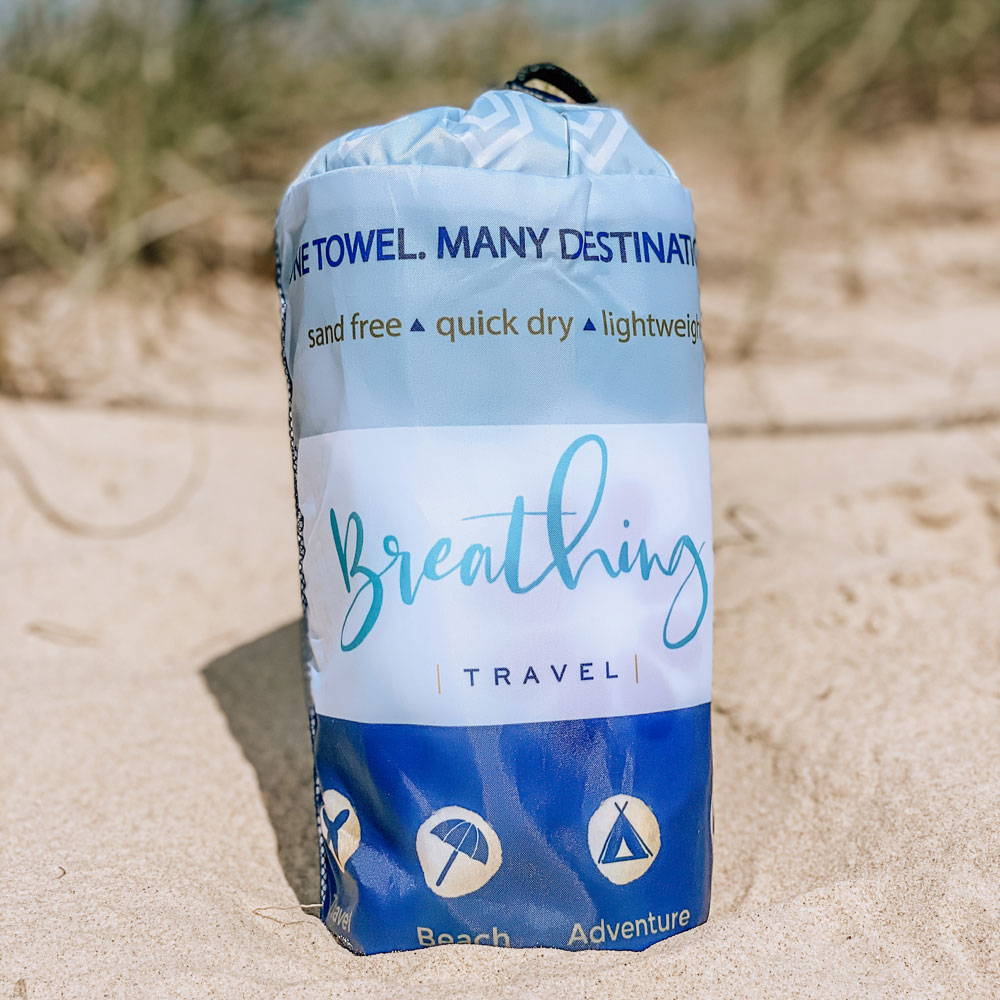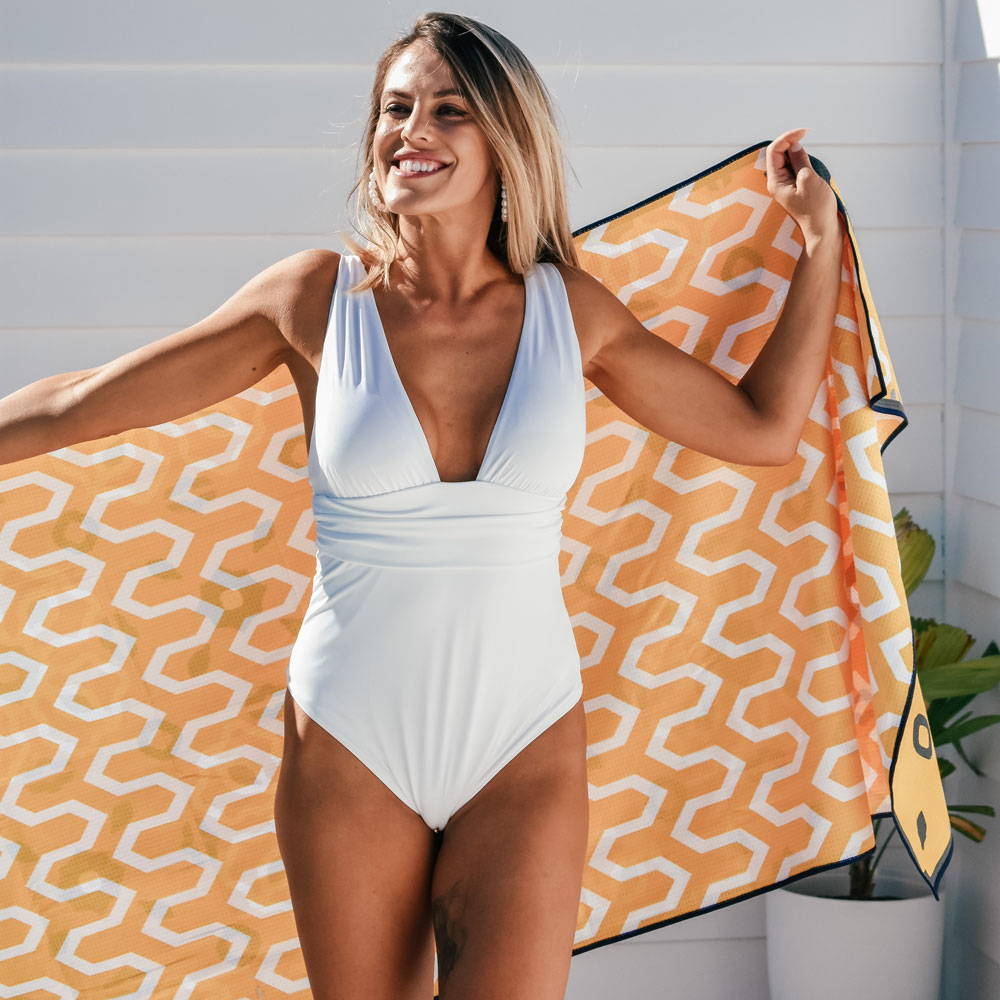 All our towels have two sides: One with a unique design, the other side is printed with our signature wave design in the base towel colour.
They also come with a sturdy hanging hook.
Perfect for the beach, swimming, travel, yoga, hiking, backpacking, picnics, camping & more!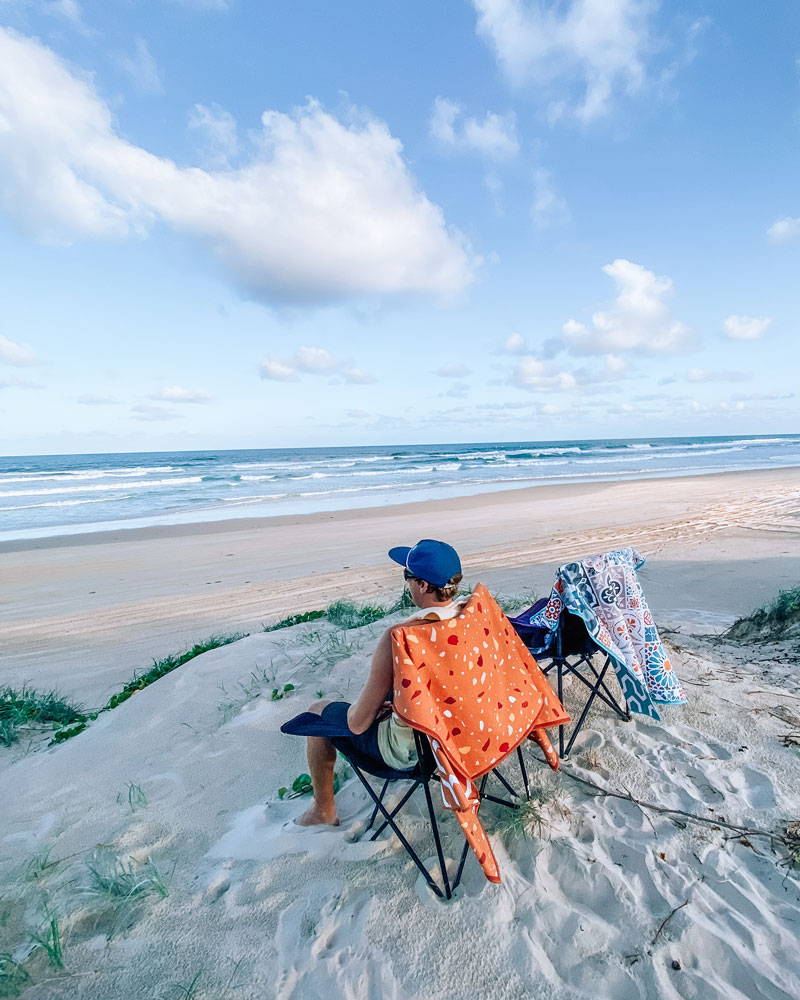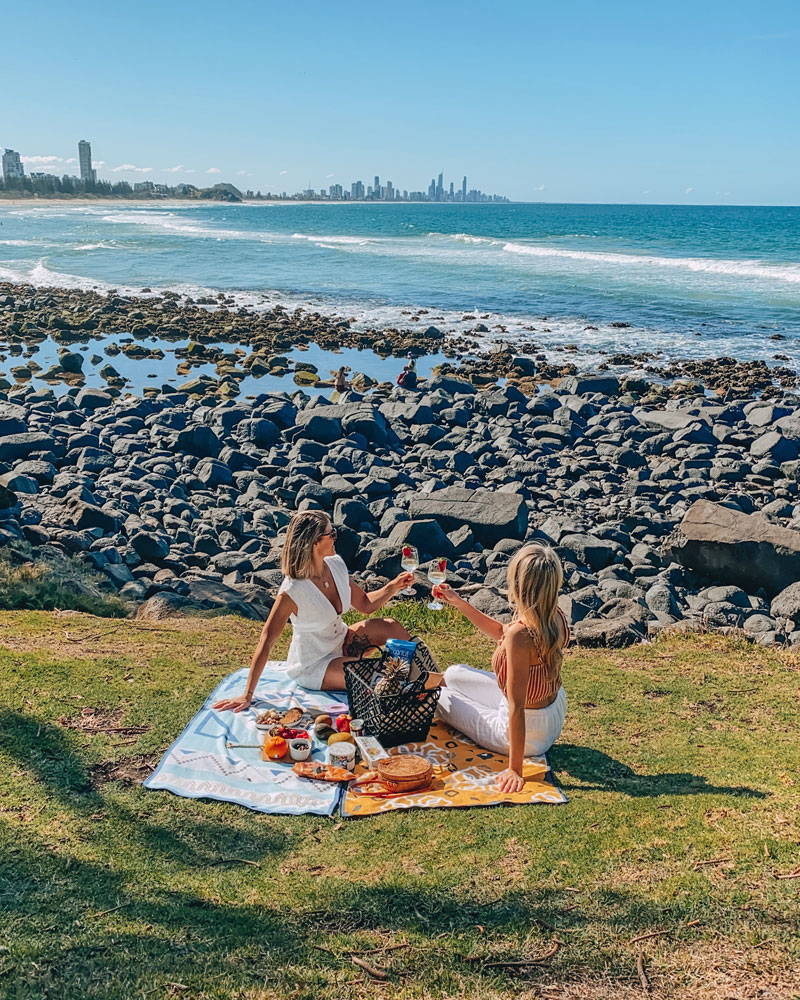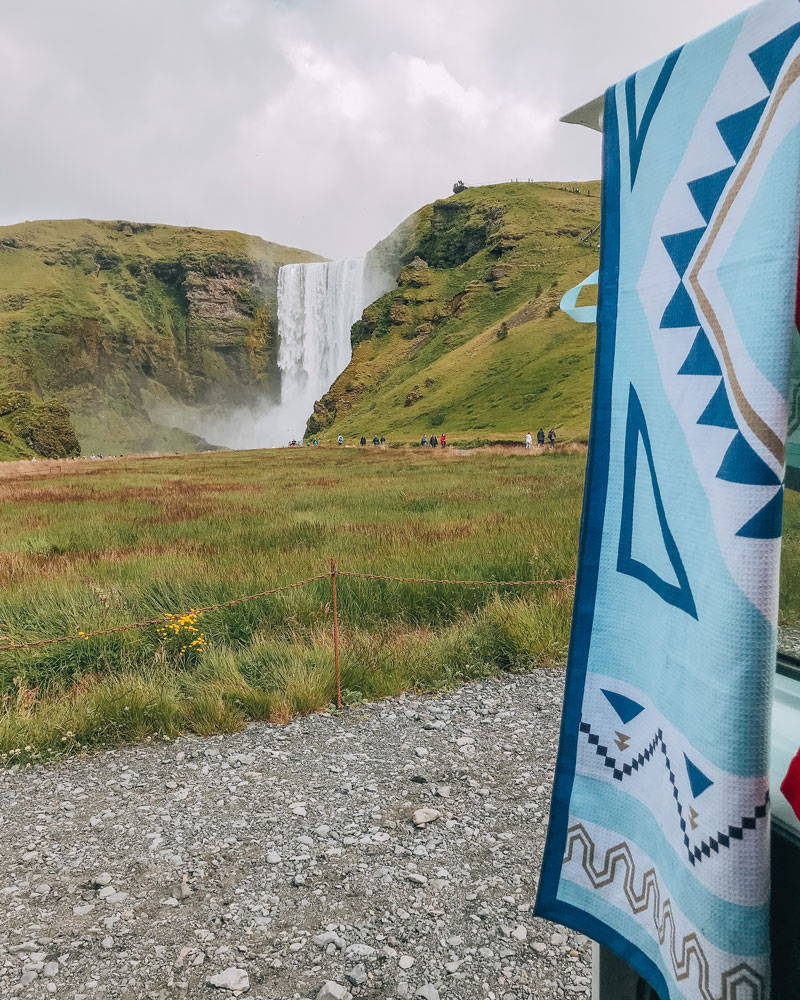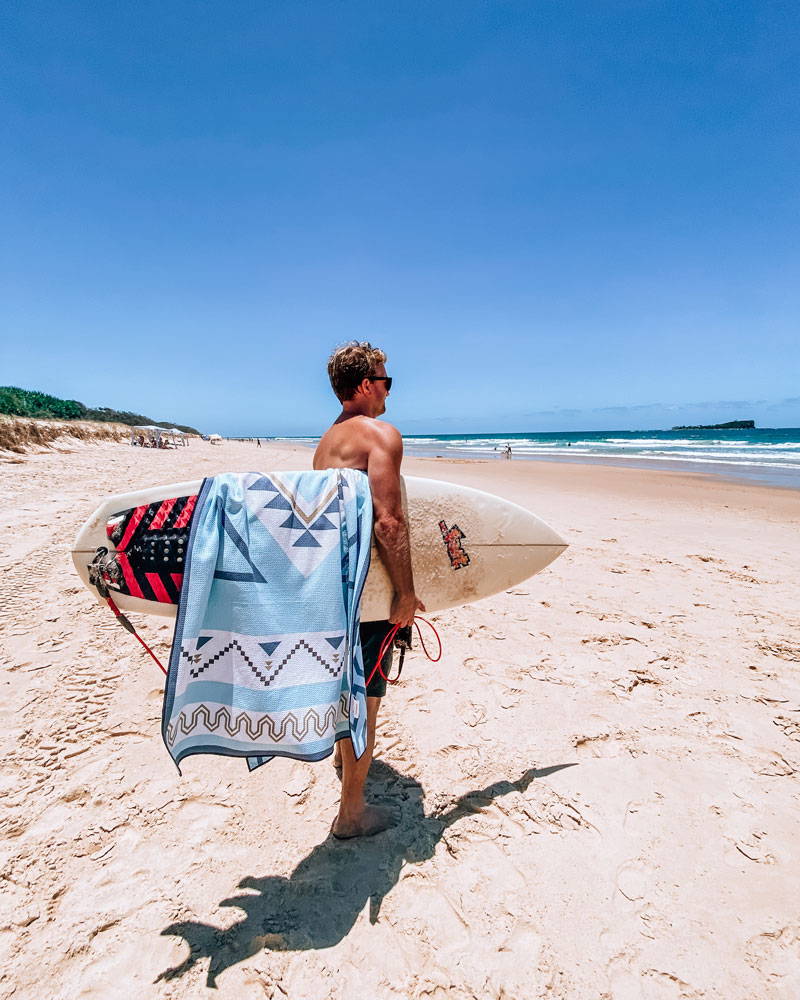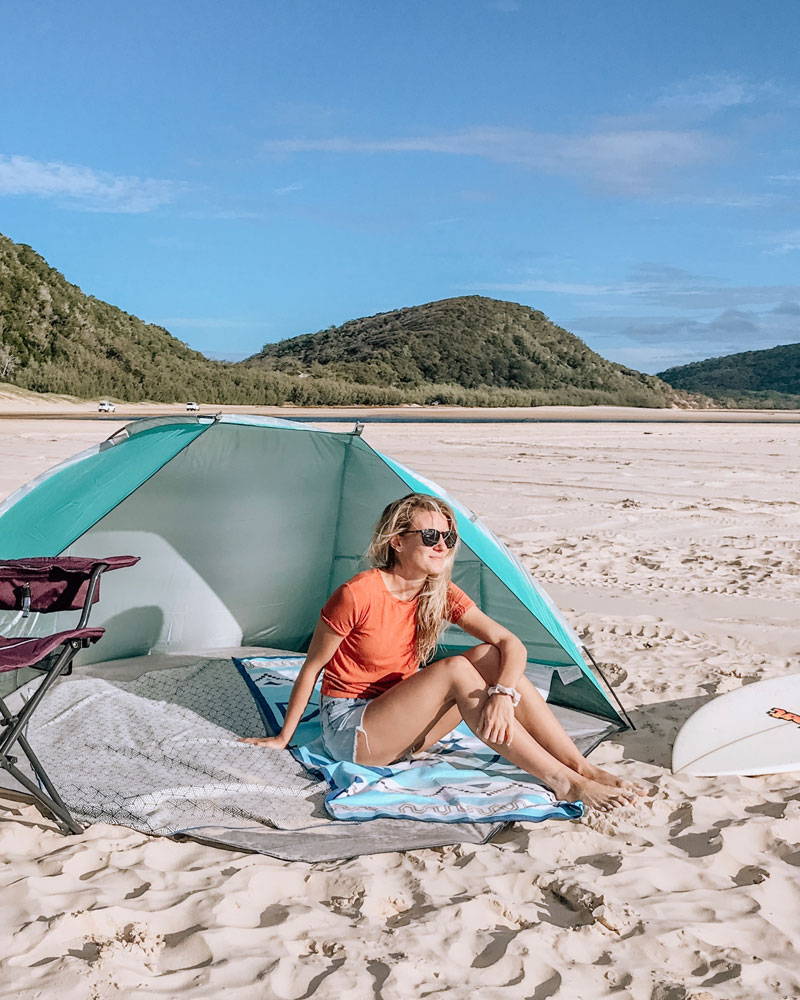 Here are some things that our customers have said about us
perfect for all travel
We always carry this towel in our travel bags. It is lightweight, and dryes so fast. And the design is extraordinary. Last week we have been on the Canarian Islands. So many people asked us where we have bought these beautiful towels. And it is amazing, that not even the the black volcano sand sticks on this tissue. Ist's always clean.
These are great. My third one
Best purchase ever!
I love my new towel for 2 in the El Paridiso design! It's perfect for beach days or even as a picnic blanket. It's so handy that it can be folded up into into an easy carry size and dries so quickly, not to mention no more sand all through my car! I'm totally converted and don't think I could ever go back to a regular towel.
Great product, great price
Sure, there are others cheaper, but not with the environmental cred of these towels. Great feel, great look
I love these towels!
These towels are perfect for the beach bum lifestyle! They aren't big and bulky so leave plenty of room in your beach bag for the rest of your gear. They dry so quickly so not only do you not take any sand, you don't end up with a soggy bag either. They come in cute packaging too, so make great gifts for any beach babe!
Awesome Towel!
We purchased the Blue Dream Towel for Two. Its absolutely beautiful! Its perfect for the beach with our 3 kids. Its a great size and great quality. I highly recommend them. Fantastic service too.
excellent quality for a reasonable price - great X-mas present
We use this towel quite often in sauna. Amazing how absorbant it is. No Sweat on the wood! Drying really very fast. And the best: it does not smell sweaty like most other towels do after use. We have washed it more than 50 times and it still is like at the beginning.
Beautiful designs. We have just ordered some for Christmas presents.
Very Impressed
Its great to have such a good product made from recycled materials. It is light, soft and compact. I plan to order the over sized one as well. Definitely would recommend.
Our Customers Also Love...